HOW BARBARA MARTIN GREW HER PASSION FOR ART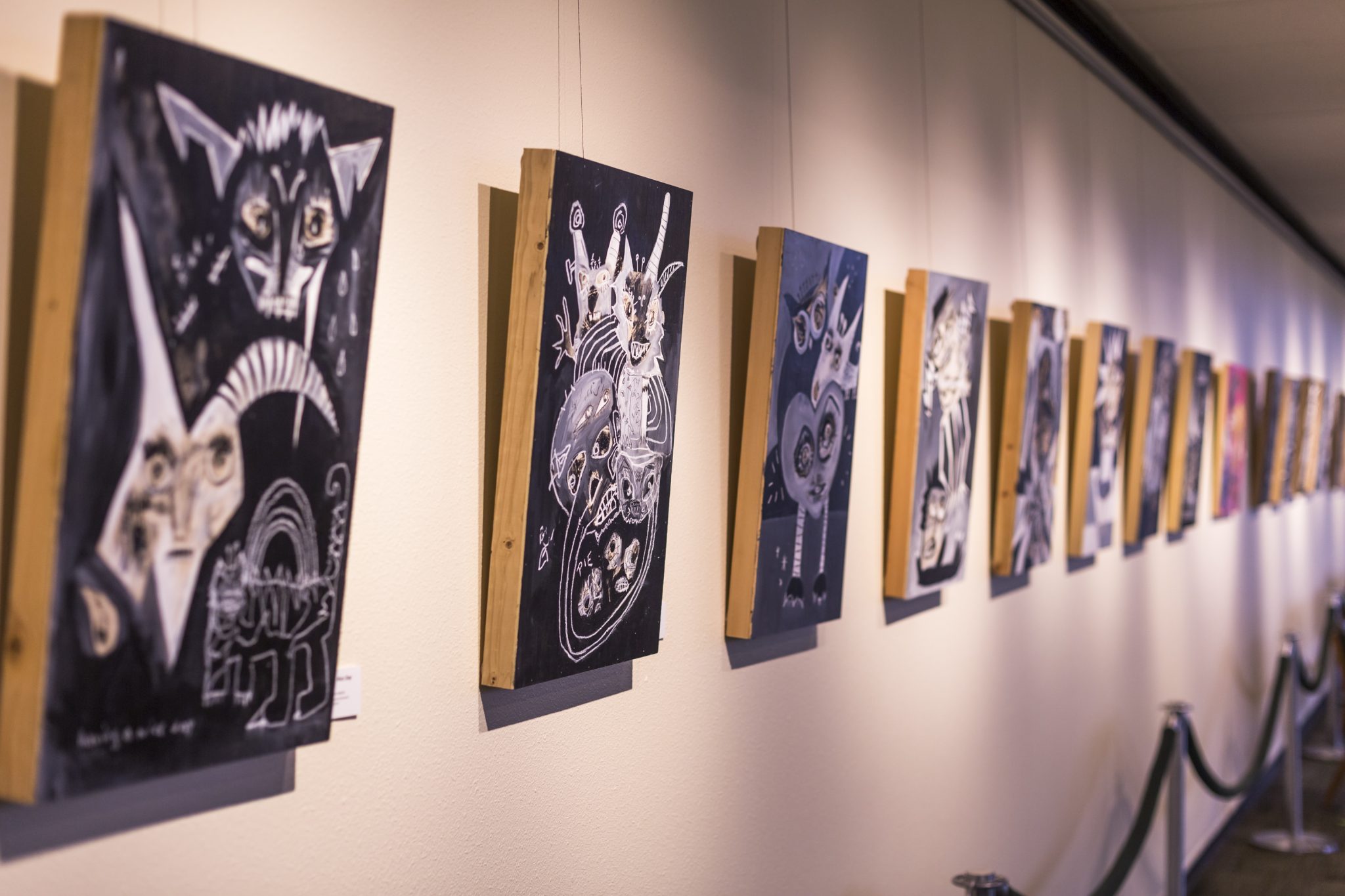 "I almost cried," said Barbara Martin, the artist featured in this month's Fireplace Gallery exhibit at Mt. Hood. "It's a little bit overwhelming. This is the first time I've been able to see so many of the black-and-white paintings together, and to see them go down that long wall in a line is really amazing."
Martin, now based in Hillsboro, has been creating art her whole life but didn't start calling herself an artist until six or seven years ago when she decided to pursue art full-time, she said. She lived in Ethiopia and Kenya when she was younger, and has lived in 11 different U.S. states since.
Her family felt she was too smart to pursue an art-focused education in college, so she ended up studying business and earning her master's degree in business administration.
When she tried to get into art 10 years later, she got pregnant, and the chemicals in her welding class were too hazardous, so once again, her passion was put on hold.
"I never thought I'd end up going into art," Martin said. She participated in mini-art courses whenever she had access to them, but assumed art would remain a hobby and enjoyed finding creativity in other aspects of life – her favorite being in the garden.
After getting pregnant, she explored garden design. "It's three-dimensional art, plus time, so you have four dimensions, which is cool," she said. "I worked a lot with proportions and line and color just like you do in any art, but it wasn't 'art art'. "
When Martin finally felt like the time was right and she had the full support of her husband and daughter, she decided to take more art classes and revolve her life around painting. "Once you have that feeling that art is really interesting to you and your hands want to make art, it doesn't go away," she said.
Her series on display at MHCC, "Super Ply and Friends," is a collection of primarily black-and-white paintings that pull inspiration from a few different sources.
Martin wanted to work on "values," the different shades of gray between white and black, so that way, she could apply those understandings of light and dark to her color paintings. Practicing this skill allowed her to discover how much she enjoys painting in black-and-white.
Each painting in the series comes as a result of an almost identical process. Martin took a class from local artist, Jesse Reno, and a class exercise went as follows: Martin, who is right-handed, puts paint in her left hand and doodles with it on paper, then she presses that paper onto a thin piece of plywood a few times and begins looking for eyes or faces in the prints.
She expanded on what started as a simple learning exercise, and created a series of characters from it.
"I've done quite a few of these as live demonstrations, and the mood in the room really affects the painting," she said. "There's one called "Nebulous" which was done in a senior center. There were many elderly people who had either been artists and stopped, wished they had started, or were currently trying to start, who came up to talk to me, and it was all a very gentle kind of ethereal feel in the room – kind of in slow motion. And that painting is very unresolved that way."
Other paintings were inspired by moments such as music performances in the space where live demos took place; cliques she saw at high schools; even, the atmosphere of a wine tasting event.
When explaining her love for mixed-media art, Martin said, "I like to keep exploring, kind of stay on the edge of what (I) don't know."
The Fireplace Gallery is one of her favorite places in which she has displayed because of the space, lighting, atmosphere, and welcomeness she has felt from the moment she started hanging her paintings, she said.
"Super Ply and Friends" may be viewed at MHCC from 8 a.m. to 7 p.m. weekdays (until 5 p.m. on Fridays) through Nov. 29.
Martin hopes to display her art in increasingly prestigious venues, but, when it comes down to it, "every day is an accomplishment. You just go into the studio and make art," she said. "Just like writers have the blank page, artists have the blank canvas. Being able to do that every day is amazing."
For more: barbaramartinart.com