Review: Walker's last film features parkour stunts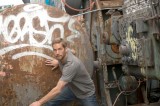 Crime and fear fester inside a development in Detroit known as "Brick Mansions."
Unable to control the violence, police isolate this once-flourishing community by installing a wall and heavy security around it. Damien Collier (the late Paul Walker) has one true ambition: to avenge his father's death by the hands of druglord and tyrant Termaine (RZA). Joined by ex-convict Lino (David Belle), he takes on an extraordinary mission to save the city from desolation. To do so, he and Lino must work to overcome their differences and learn to synchronize.
I have to say, for a movie that encompasses mostly action scenes, the plot sufficed.
Each character strongly features his expertise. Paul Walker is the champion of physical combat, and David Belle, co-founder of parkour, is the maestro of said discipline.
Belle made his practice legendary in his native France, in the films "District B13," and its sequel, "District 13."
Besides the somewhat conventional storyline, there are those few moments of bad-assery that had my mouth agape. Of course, like any action movie, viewers must learn to overlook the lunacy and illogical tricks that Damien and Lino are able to pull off. With this movie, you have to come in with a predisposed mindset: Once the "that's impossible" viewpoint is abandoned, doubt should be replaced with high expectations.
One thing I appreciate about the character development in "Mansions" was that with a few exceptions, everyone held true to his disposition. On top of that, it was a relief to encounter a villain with a dual side: homely and inhibited. Tremaine is shot chopping peppers in multiple scenes, giving him an eerie yet vulnerable aura.
I have mixed feelings about the filming technique, however. With the camera seeming to shoot at interesting angles, everything looks raw. Director Camille Delamarre did a decent job of displaying tension and energy by keeping things moving quickly. I think I would have liked to see the parkour stunts in a more real-time effect, however. All of the parkour sequences looked choppy. To me, it looked like the camera man was hopping around with Damien and Lino. The choppiness, however, could be determined as authentic action. Though it makes the eyes strain a little bit, it helps to create a robust experience.
As far as plot goes, let's just say they got the story about right, along with its customary twists, turns and surprises. With the film running just under an hour and a half, it miraculously jam-packs everything one would expect from an action movie: high-speed car chases, hand-to-hand combat, gun fights, and of course, its thematic parkour stunts.
There has been a lot of hype about the parkour aspect of this film. From an action movie with such expectations, I suspected an even more flimsy plot and an overflow of parkour. There were breathtaking stunts, but they seemed condensed into a few sporadic scenes. However, what was done was spectacular.
I shed a tear when the film honored Paul Walker's life at the end (the "Fast and Furious" franchise star died in a vehicle accident in November). "Brick Mansions" was his last completed movie. According to his Brazilian jiu-jitsu insttructor, Franjinha, the actor was looking to showcase his martial arts experience. He was constantly taking himself to new heights, and he did so by training in the art of parkour.
This movie was not a disappointment. It is one of the few lower-budget films worth viewing.
"Brick Mansions" opens in theaters everywhere today.