MEET YOUR MT. HOOD SAINTS TRACK TEAM
The Mt. Hood Saints track and field team is reaching its halfway point of the season. For some athletes, it's time to focus on the little things of their stride, execution, or hop, while for others, opportunities are slowly running out for a chance to qualify for the NWAC Championships.
With only five meets remaining before the championship meet, to be hosted right here at Mt. Hood May 21-22, we headed down to the track to see how some Saints are preparing.
(This Saturday, April 14, the Saints will compete in the Saint Martin's Invitational, in Lacey, Washington, where they'll face some of the top competition in the Northwest.)
Tayton La Pointe
Ranked second in the NWAC for 800-meter run with a time of 1:59.61 (not yet qualified – qualifying time is 1:58.16)
La Pointe came from a great senior year season at Clackamas High School and had a great summer training program with coach Fernando Fantroy where he was doing 200-meter workouts and hitting (800m) times well within the 1:54-55 range. He was looking forward to a great spring but sadly got a foot injury which had him sit all fall and half of winter, as well, to recover. He's happy to be healthy again and hungry to regain his summer form. What helps him maintain or recover his endurance and speed back so quickly is that was a four-sport athlete at Clackamas, competing in cross country, basketball, soccer and track. It's good cross training he said.
With the times he was hitting during the summer, La Pointe's current season PR (1:59) doesn't have him happy. He knows he can run faster.
"Placement doesn't matter very much; it's about your time," he said.
"Two is a very good number but I need to be 1. I need to be faster than that."
Ramontre' Williams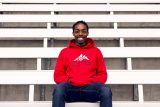 Qualified for high jump: Ranked second
Qualified for triple jump: Ranked fifth
Ranked third for long jump: 21 feet, 9.5 inches (not yet qualified – qualifying leap is 22 feet, 1.25 inches)
More than anything, Williams seems just grateful to be competing at the college level. He comes from Portland's Jefferson High School, and like many of Portland Interscholastic League conference members, Jeff struggles with resources sometimes for sports and funding. But he's happy to be part of the team and grateful to have already qualified for two NWAC championship events and is looking for his third. He actually started as sprinter in high school, where he did the 100m and 200m sprints his freshman year. He only started the long jump his senior year.
"I don't want to limit myself to anything. So, if I'm good at anything, might as well do them all," said Williams. "The triple jump, I've never done that… apparently I'm good at it so I might as well stick to it."
Asked his feeling about the NWACs – if he was excited, nervous, or wanting to place – he said, "I mean, just trust the process. It's a lot to handle, going to class, coming to practice, and managing all those other things. But as for results, I don't know, top three, top four, top five, I'll be happy with. I'm just trying to get to wherever I can."
Michael Botchway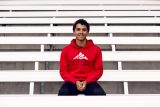 Qualified in the 100 meters: Ranked third, time of 11.14 seconds
Ranked fifth in the 200 meters: 22.69 seconds: (not yet qualified – qualifying time is 22.43 seconds)
Michael Botchway has a big goal this season; to be sub-11. It's been a goal he's had for a couple years now and has been haunting him. But he's feeling really confident this season. He knew Coach Fantroy before coming to Mt. Hood and enjoys getting coached by him. "Last year my (high school) coach had me running repeat 400's and that's not really my thing, and so I never made any progress," he said.
He enjoys the small team at Mt. Hood, and resulting one-on-one training with coaches – unlike what he remembers in high school where he felt like he didn't have good sessions and would have to wait until 6 p.m. to get time with his coach.
His next goal is to qualify for the 200m, where he is currently sitting at fifth.
Grace Buchanan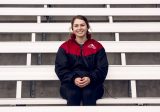 Qualified in the Javelin: Ranked second, mark of 130 feet, 7 inches
In her first throw of the season's first meet, Grace Buchanan had already clinched her spot to NWACs. "I was excited because that was my PR (personal record)," she said. "I was already 2 feet past what I thrown in high school and to know that I had already gotten my ticket to the NWACs, it was really exciting."
She didn't think she was going to qualify that early. She and her coach had set that as their season goal, and to peak around the end of the season. But after that first throw, she said she was really excited for the rest of the season. The two had to dramatically readjust their plan and set a different goal. Now it's 10 feet more, something she would have never thought about before the season started. Qualifying so early gives her time to really focus on her technique during training, and her execution during meets – getting the little, important things right so she can be ready for the NWACs.
Erica Veltkamp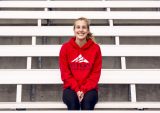 Qualified in the 5,000-meter run: Ranked fourth
Qualified in the 10,000-meter run: Ranked third
Erica Veltkamp is one of the few sophomores in this year's freshman-heavy team. She qualified and ran in both races in last year's NWAC Championships, hosted in 90-degree-plus weather both days. But she is enjoying this season with her new teammates, and has already PR'd in both the 5k and 10k with respective times of 19:47 minutes and 42:09 minutes.
For those who might not know, the 10,000m is the longest track event you can do – (before you go insane!) – 25 laps on an outdoor track What's her mental approach? "I think it's just not really focusing that your running," she said. "You just have to kind of zone out and think about something else. Usually I find a song and just repeat that song over and over again in my head.
"So, I don't think, 'Oh, I'm running all these laps;' it's just like focusing on my breathing and other aspects of my race," she said.
Veltkamp, unlike others, isn't too worried about the NWACs, nor where she stands in conference. The stats don't really grab her attention. "I just have personal goals for myself. I don't really focus on other runners because it's always changing. I just set times for myself and paces instead of focusing who's around me and who should I beat."