Conservative-minded Sonny Yellott runs for re-election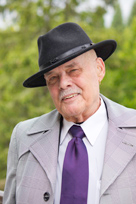 George "Sonny" Yellott – formally censured by his MHCC District board colleagues last year and reportedly urged to resign over his controversial public comments and Facebook posts – is running for re-election on the May 16 ballot.
Finishing his fourth year as the Zone 4 director, Yellott said he's running again because he "thought it was fun the first time around. I think I have things to offer; I do consider myself a student and… because I am a student I see things through a different perspective or prism than (how) some businessman or -woman might see things."
During Yellott's time on the board, "most of what the board has accomplished has been a result of my individual initiative," he said, such as the creation of an alumni association: "Not long after I was seated… I was informed there was no alumni association. I proceeded to prod the administration about [it]… at the last meeting… I was informed there was now an alumni association," he said.
He also advocated for the formation of Mt. Hood's "Krav Maga program" for martial arts/self-defense, he said.
Regarding the latter, Kim Hyatt, Dean of Health and Physical Education at Mt. Hood, told the Advocate that "We have not offered it in the seven years that I have been here and I don't believe it has ever been offered."
Asked what he'd like to do if re-elected to the board, Yellot identified faculty turnover as a challenge facing Mt. Hood.
"Based on my experience with Portland Community College and (the) University of Nevada-Las Vegas, I cannot recall anyone ever having such a high turnover" as Mt. Hood, he said. "I don't know what the problem is, but something isn't functioning right. Instructors [that] students know, trust and respect should be considered an asset." He re-asserted that Mt Hood was not doing enough to encourage that.
As far as Yellott's position on undocumented students attending Mt. Hood – in board sessions, he has said he believes many problems stem from their presence –  he related that his stance was identical to that of President Donald Trump: "His (Trump's) position on this [is], they're all going home," he said.
"That's my position on this… Those who don't belong here don't belong here. I don't feel that the taxpayers of Multnomah County should be forced to learn with all these people who have no legal right to be here. If they want to come to this country legally, fine! But if they just want to run across the border when nobody's looking… that's' breaking our laws."
Regarding the $75 million general obligation bond put forth by MHCC, also on the May ballot,  Yellott said he "cautiously" supports it. Specifically, he "support[s] what it is intended for but my fear is that it might be used for something else… the problem with this is, to misdirect funds from something like this is a violation of public trust," he said.
Yellott said he "didn't know of any specific instance" where this had happened at Mt Hood specifically in the past, but stressed the recent accounting errors in the federal Department of Housing and Urban Development as a prime example of "white collar crime… Look at what just happened. It looks like Ben Carson, a neurosurgeon, just found $500 billion in the HUD account. It took him 30 days to find it, and he's a neurosurgeon, not a CPA."
(The fact-checking website snopes.com rated this claim "mostly false," since errors in HUD accounting were found in an audit ordered during the Obama Administration.)
If re-elected, Yellott said in the next four years he would like to see "the cost of education go down." He has proposed a book buy-back program through the Student Union, a program he said was "successfully engaged at PCC when i was there."
The program would sell used books to incoming students "at a price that is what the person who sold it thinks it's worth, which is well below what some profit-oriented businessperson who's operating the bookstore feels that they're worth," he said.