The action we're taking for designated smoking areas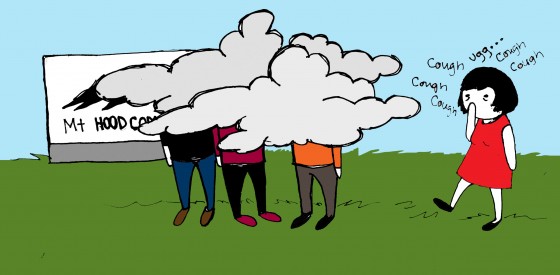 MHCC's dazzling new sign on the corner of 257th and Stark is sure to turn heads, but a little farther down by the bus stop, there is an instant turn-off.
You've seen it; we've seen it … Everyone has seen smokers dangling right off the edge of Mt. Hood's property, puffing their cigarettes. We don't want to hash people out for smoking, but they do make our institution look unprofessional.
What's really shocking about this?  It's not so much the smokers, but the fact that this issue has been smoldering on the back burner for many years. People have wanted to change the "no smoking" policy for a while, and it's time we at Mt. Hood took action. The Advocate has written numerous editorials about this subject and yet we haven't provided a well-thought-out solution.
The problem, we believe, is writing the editorial and then taking little-to-no action. That's why we are currently coordinating with ASG to promote a new policy. Today, MHCC stands as a tobacco-free campus. We need to work on that policy first, and then provide the alternative destinations for students to legally smoke, although we have a few ideas. They include on the far side of Parking Lot W (away from the Child Development Center), and near the fenced areas by the gymnasium between the track and parking lots.
Do not expect the college to designate smoking shelters in the next two weeks. Policies are put in place by committees and administrations, and later approved by the MHCC Board of Directors. One reason why we haven't seen a change in the no-smoking mandate is because it is difficult to reverse a fairly recent rule that Mt. Hood has worked hard to enforce since 2010.
The no smoking policy is black-and-white for a reason. Black-and-white rules are the most efficient, but there's a problem here: The gray area just won't go away. People smoke on campus anyway, and they smoke all along the perimeter, choking up the sidewalks and entrances to the school. People get away with smoking their e-cigs, too, because they aren't technically "smoking" tobacco.
Portland Community College established "Good Neighbor Zones" in 2009 due to complaints of students smoking and disposing butts in the neighborhoods surrounding the Sylvania campus. Kate Chester, public relations manager at the time of the policy change at PCC, said the zones "have been a good investment because they are used effectively."
We at the Advocate support taking on the issue at Mt. Hood head-on.
To start the process of changing the no-smoking rule, ASG will run a survey through the SurveyMonkey website to get input from students and faculty. On-campus smoking is an issue that affects every single soul to set foot on campus. Our opinion at the Advocate remains consistent: We prefer designated smoking areas, although we understand that when it comes to policies, they should be designed to protect the health and interest of all those on campus.
Do us a favor: Whether you're a brand new student, a returning student, a faculty member, a custodian, an instructor, or President Derr yourself, we need you to take the upcoming survey in mid-November.