Saints coach doing just fine after being hospitalized with glioblastoma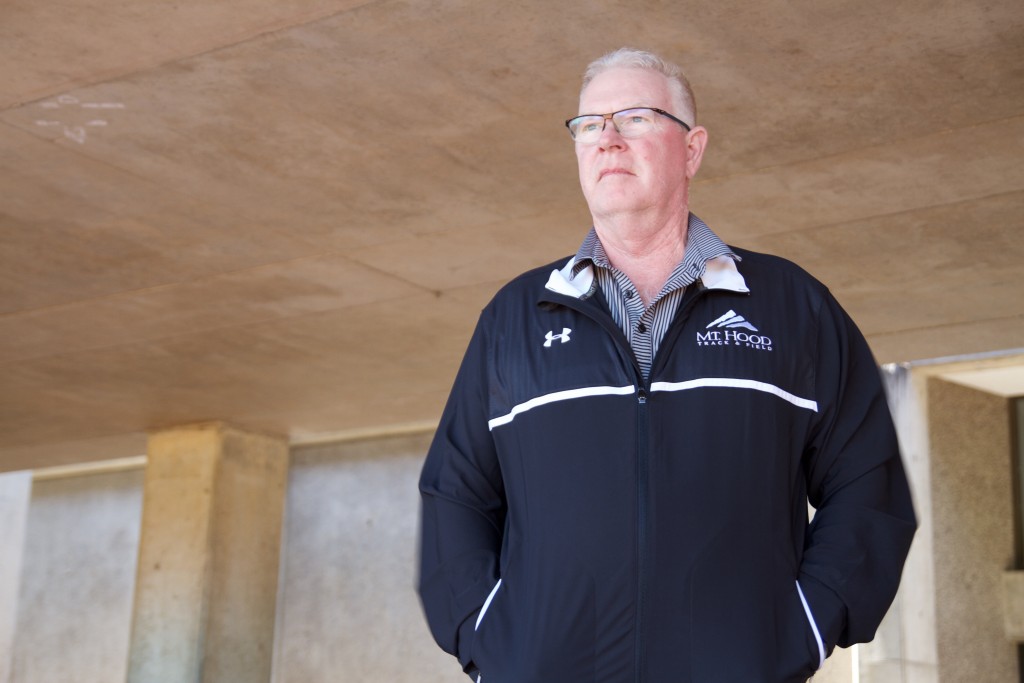 Saints head track and field coach Doug Bowman showed up at Mt. Hood's running track around 6 a.m. on Saturday, March 12. The 63-year-old was preparing for the team's annual Saints Open meet, which started at 10 a.m.
Instead, by 10:30 a.m. the coach was on his way to the Providence Medical Center hospital in Portland with his wife of 13 years, Cheryl.
"They said I was lacking concentration and not pulling things together," said Bowman in his office Wednesday afternoon, referring to worried colleagues trying to inform him of his behavior that morning.
"It's weird… You feel fine and then out of nowhere, it's like, 'What the hell is going on?' That's the scary part about it, because I felt absolutely fine (that day) and still do," he said.
Good thing Cheryl was convincing in getting her stubborn husband to listen when she laid down the hammer and forced him to go to Providence. A CT scan showed a cancerous tumor in his brain.
"At first I was thinking 'Why the hell am I here?' " said Bowman. "I literally felt nothing, but my wife was putting two and two together. I have way too much life to live. My entire family has lived long lives. I still have a lot to do."
Lucky for Bowman, Dr. Oisin O'Neil was on call that sunny morning. From Providence, Bowman was rushed to the St. Vincent Hospital's Neurological Critical Care Unit, where O'Neil and his team run the show.
"I got real lucky with this doctor," said Bowman. "Thank God he happened to be on call that day."
What O'Neil found was a fast growing brain tumor called glioblastoma, which according to Bowman probably grew in his brain within two weeks.
"This cancer goes from 0-to-4, it's crazy," he said. "There are symptoms out there, but I have nothing."
O'Neil and "a team of 30," according to Bowman, operated on his brain at around 12:30 p.m. the following Monday and he left Wednesday morning. "The food was really good there," said a rosy cheeked Bowman this week. "While I was there, I had five MRIs and three (CT) scans… I think I lived on that table for a while."
Bowman added, "My body is clean, based on the last MRI I had before leaving the hospital."
As for the surgery, he made light of it and said, "I feel absolutely nothing. I just went in quickly for a haircut and then left."
Bowman will begin chemotherapy and radiation on Tuesday, scheduled for six weeks. "I will meet with the doctor once a week. They are trying to find out whether they can stop (what might be left of the tumor). Because each week, it's either going to get better or worse.
"Right now, I'm totally confident I'm cancer-free. I feel like a million bucks," he said.
Bowman said it has been hard on him having so many people feeling bad for him, though he appreciates the support. "It drives you nuts and puts you in a bubble," said Bowman. "I feel fine… No pain… No nothing… Leave me alone.
The craziness about all of this is if people can't see you physically, their imagination runs for the worst."
Bowman said he hates the idea of feeling alone. That's why he's keeping himself busy and he sure doesn't feel bad for himself. "There are times that all of us feel like we're on an island and feel by yourself," the coach said. "People everywhere are going through the same shit."
After leaving the hospital, Bowman said the first thing he did was stop by the track at Mt. Hood. "We left and I wanted to go there and check things out," said Bowman. "My wife and I even got out of the car and helped with some stuff on the track."
Again, Bowman doesn't want anyone to feel bad for him.
He said the biggest lesson from this draining situation was how much the community cared for his
health and well-being. "I can feel everyone around me that is thinking about me. I know it sounds crazy, but I can really feel them reaching out to me. I don't know who they are, but I can feel them. The feeling is, you're not alone in this," said Bowman.
"There is no anxiety. I'm just excited about this next chapter and where it's going to take me. I have a bigger purpose in this and I don't know what it is, but I'll find it later. (I) can't afford to dwell on it. It is what it is. It's how you take the adversity and trust those who are taking care of me.
"Not once have I felt like, 'Oh my God… I'm going to die…' " he said.
As for coaching, Bowman plans on "managing" the team and letting his coaching staff take a bigger role. He said his student athletes have really rallied around him. He said he wants to help his team not only prepare for track meets, but for life in general.
"I tell my students they're going to have kids some day and most likely coach them," said Bowman. "They will put together all of the knowledge that they have been taught from their teachers and coaches. And every now and then you're going to blurt out a comment your coach said 30 years ago."
For now Bowman, a father of six children and grandfather of 16 more, wants to focus on the present and feels completely confident that his medical staff, family and support system, both near and far, will help him get through this, just fine.
"Hunting season is just around the corner," he said. "I need to get out there for bow hunting. Therapy for me is looking at the track, looking at the trees, being outside. It's definitely not being stuck."