SUBARU UNIVERSITY FINDS HOME AT MHCC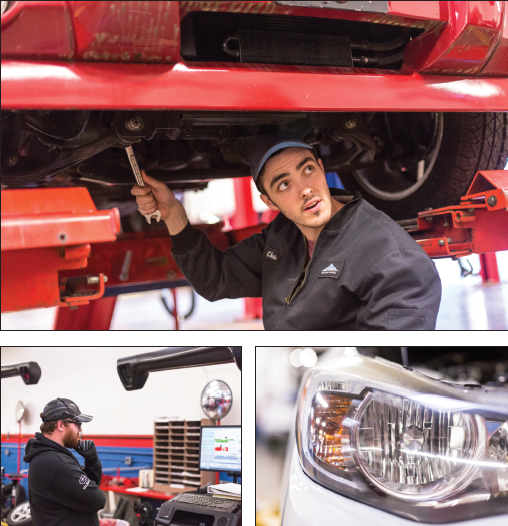 At the Nov. 15 meeting of Mt. Hood's District Board of Education, board members approved specialized Subaru certification for students in the Automotive Technology program. Students who wish to focus on Subaru vehicles will graduate with a "Subaru U" (short for Subaru University) certification. Mt. Hood's automotive program currently has a partnership with Chrysler, and some former Chrysler officials who now work for Subaru
approached instructors in the program to build a new partnership with Subaru.
Before the Subaru U program was offered at Mt. Hood, students could work for Subaru dealerships, but there was no specialized training. "We couldn't really offer them anything here as far as Subaru at the college. We didn't have Subaru vehicles, we didn't have the Subaru manufacturer's training, we didn't have any special tools to offer them," said Eric Garvey, MCAP Import Subaru U coordinator and instructor.
With the new partnership comes vehicles, engines, transmissions, differentials, diagnostic equipment, and various tools. Originally, Subaru did not plan on donating vehicles to MHCC. "They told us there never would be any cars, they don't have it in their budget, they're a small company," said Garvey. Currently, the college has six donated Subaru cars. The automotive program also has two Subaru diagnostic scan tools originally not planned to be donated.
Students in the automotive program get to choose what makes of cars they want to specialize in, and the popularity of Subarus across the Pacific Northwest has been drawing a lot of students. During their time in the program, students spend three months on campus, then are required to spend 200 hours working at a dealership, said Garvey. Most dealerships pay the students at least $13 an hour for their work.
To join the MHCC-partnership program, students are required to have a clean driving record and a driver's license. They are then given a list with local car dealerships, and they decide on which ones they want to work for. "They actually go out to each dealership and pretty much interview until one of these dealerships will sponsor them, and they get to choose which ones they want to try," said Garvey. A graduate of the program himself, Garvey worked at Dick Hannah dealerships for 18 years before returning to Mt. Hood to teach. "It seems like a pretty good program to me, all the way around," he said.
Some dealerships even offer students full scholarships that cover the cost of tuition and tools. That helps because students in the program are required to have a basic set of tools. "We have an agreement with Mac, SnapOn, Cornwell, Craftsman, Matco, that all (enrolled students) get 50 percent off the whole time they're a student," Garvey said. Students in the program take academic classes as well as work on cars in the Applied Technologies Building (18), just east of the main Academic Center mall.
"Coming in for an automotive degree, I honestly wasn't expecting to have to earn an actual degree," said Mitchel Goold, second-year Automotive Subaru U student. "I thought I was just going to kind of get to work on cars." Working together in the program, many of the students end up developing a camaraderie, said one.
"We are literally like a family: There are people that we get along with and we work great together, and there are people that… not so much," said Chris Nagels, another second-year Automotive Subaru U student.